VIEW AVAILABLE LISTINGS IN POPULAR HOBOKEN COMPLEXES
Hudson Tea


Hudson St. / Washington St.
Take in the view of the gorgeous New York City skyline through enormous picture windows overlooking the Hudson River. Enjoy unparalleled amenities that include a waterfront promenade, fully equipped fitness and aerobics center, on-site parking, residents club, business center, on-site cafe, and daily shuttle service to the PATH. Or take an easy ride to all the dazzle and excitement of Manhattan and its world-class choices in dining, entertainment and culture.
---
Maxwell Place

Maxwell Lane

Welcome to Maxwell Place on the Hudson, Toll Brothers City Living's luxurious new condominium residences and town homes in beautiful Hoboken, New Jersey. Offering breathtaking views of the Manhattan skyline, life at Maxwell Place is astonishingly convenient and richly rewarding. Maxwell Place offers condos for sale in Hoboken, NJ, just minutes from Manhattan.

---
W Hotel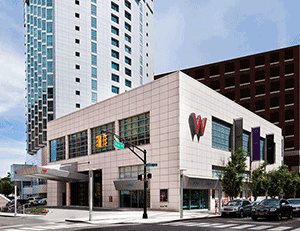 River Street
The residences at W Hotel combine luxury living with hotel amenities. An iconic landmark on the Gold Coast Waterfront (between River St & Frank Sinatra Blvd) with a magnificent view of the New York City skyline. Hot nightlife, decadent dining, a Bliss Spa and shopping at your doorstep. Blocks from New York City transportation (NY Waterway Ferry & NYC/NJ PATH) and New Jersey Transit's waterfront transportation hub.
---
Sky Club
1st St

One of the biggest residential buildings in Hoboken, the building consists of two 17 story residential towers, and a third tower housing the parking garage. There are 326 residential units consisting of studios,1, 2 and 3 bedroom units. The Sky Club also has 5 commercial units which currently house a nail salon, real estate firm and Sky Club Fitness & Spa.
The
25,000 square foot
health club, one of Hoboken's largest, has a sauna and swimming pool.

Testimonials
" My wife and I moved from Arkansas to the New York area for work. We had a very short amount of time to pick a place and ended up in an area that was not well suited for us. I contacted Rachel and not only did she get us in a place minutes from downtown Manhattan in record time, but she also worked as an advisor around laws/regulations with real estate. Because of this, I was able to get my deposit back from the other apartment, as well as most of first months rent (we were there 10 days). Rachel DiSalvo also took the time to show us around all of Jersey City to familiarize us with the area. There wasn't a single thing we disliked about working with Rachel. The process was streamlined and professional. I have already recommended Her to a friend and will continue to recommend her any time I can. "
- tommy eagan
" After a brief conversation with Rachel DiSalvo describing what I was looking for she was able to narrow the choices down to 4 apartments. All were within my price range and fit my requirements. I was able to select a really terrific apartment. She negotiated with the landlord to have it painted and some minor issues taken care of. She helped me through the application process and made sure the move in was seamless. I would highly recommend Rachel to anyone looking for a property in Jersey City. "
- Gerardring1
" I highly recommend Rachel DiSalvo. She is the ultimate go-getter - smart, savvy, professional, compassionate, and gets results fast. I would entrust her with any personal sale or rental need in the future. "
- Danielle Aque
" Rachel DiSalvo is on top of everything, we are in contract currently to sell our home in Jersey City and working with her has eased the stress. She is passionate and focused and very much looking out for our best interest. I very highly recommend her. "
- aimee.mcelroy
" Rachel DiSalvo is 100% on her a game. she is always well informed and looking for positive results to all solutions. She has been an instrumental force in executing many business opportunities from start to finish. She is honest, full of fun personality and is not afraid to get her feet wet and take risks that can benefit a client and a business partner. If you're looking for respectable, genuine and professional realtor she is by far the woman you want on your side. "
- Hillarysnyder
Previous
Next